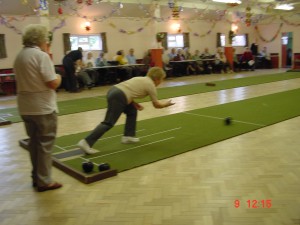 Bowls can be played competively or for relaxation. It is a great way to meet new people and make new friends. From our experience males and females enjoy it alike. FIRS hold several indoor bowling sessions every weekday. It is quick and easy to learn. We offer a comprehensive beginners lessons for indoor bowling so regardless of your skill level everyone can be involved in this fantastic sport , for further information about this lesson contact the leaders of the indoor bowling sessions found on our timetable pages.
What is Short Mat Bowling?
The short-mat game originated in Ireland where rain frequently drives outdoor bowlers into local halls. Frustrated, they tried to bowl indoors, but the wooden floors defeated them. Undaunted, they bought 6ft wide carpet remnants, 45 ft long (to fit a typical hall). But it was too easy, so a block of timber was placed across the middle, and you had to bowl around it. Skill was restored and the Short-mat game took off.
How to play?
We will show you how. Come to one of our beginner's sessions, and we'll have you bowling within 20 minutes. The basics are very simple and we provide bowls and all equipment. Then just practice for the next 20 or so years. However there is a large luck element, and frequently a beginner will win his/her first game. We play mixed games- with the ladies equalling the men in skill and strategy.
On TV the "long mat" indoor game is played (140 ft long rinks), and experts make it look easy. It is- but it takes a lot of practice to be consistent. However "It's all on the Day"- and that makes our game so enjoyable. Even our few internal competitions are as much for fun as for winning.
Equipment needed for session
Pair of flat bottomed shoes.Ladies usually wear slacks and a loose top, men in any colour trousers and tops.For more information on equipment contact the leader of the sessions shown on our timetable pages.
Venues
Elmdon Heath Community Centre
Hobs Moat Assembly Room
Knowle Village Hall
Arden Hall, Castle Bromwich (winter only)